Please note: Some of the links on this page are affiliate links. If you decide to use those links to make a purchase, thank you for your support! I myself use every single company I recommend, and personally find them valuable. If you choose to make a purchase from the links I provide you won't pay anything extra, but I'll receive a small commission. If you have any questions, feel free to be in touch!
How do you build a website for your business if you're short on time and money?
There are plenty of "do it yourself" tools, but how do you know which one is best? What if you make the wrong choice and your business suffers? Plus, using website building tools can be a huge time-suck and hassle.
If you're just starting out with your business, or if your growth plan and marketing strategy don't require a big online presence, then you can often get away with a simple "business card" website.
Business card websites look professional and contain basic information about your business. The downside to them is that they often look pretty generic, don't have any fancy features, and as your business evolves you'll likely grow out of the site. Therefore it's important to choose an option that will both meet your immediate needs, and yet also let you grow and scale over time.
In this post, I'll teach you a quick, cheap and easy way to build a business card website that, when you're ready, you can convert to a full-featured, scalable website with the push of a button.
Make a quick "business card" website that can grow with your business
While I always recommend people do their own research, I've found the website builder with the best balance of being easy to use, fully changeable later, and able to grow with your business to be WP Website Builder by Dreamhost.
Dreamhost is a hosting company that has a bunch of different hosting options. I use them to host this website you're reading right now. WP Website Builder (also called "Remixer") is their easiest to use website building tool. I recommend WP Website Builder/Remixer over any other tools for a business card website because:
It's easy to use their templates
It's very inexpensive (as cheap as $2.95/month)
When you're ready to scale up, you can turn it into a full-featured WordPress site with the push of a button
WP Website Builder is built on top of WordPress
WordPress is widely recognized as the best website building tool available. Over 33% of the internet is built on WordPress. The problem with regular WordPress is that it requires a little more technical know-how than many small business owners have. For this reason, many folks turn to other website-building tools that are more expensive and less scalable than WordPress is.
The problem with using most tools other that WordPress (eg: Wix, Weebly, Squarespace, etc) is that those other options can't be transferred if you decide you don't like it. You're essentially trusting that the company you're using will stay in business for as long as you need them. WordPress, on the other hand, is open source. What that means is that if you use WordPress, you can pack up your website and take it to another hosting company whenever you'd like.
As long as you're using WP Website Builder, your options will be more limited than they would be if you were using the regular version of WordPress. However — and this is what makes WP Website Builder such a great option — with the push of a button, you can convert your WP Website Builder site to a full, regular WordPress site. That's so important, I'm going to say it again in bigger text so the people who are only skimming can see it.
With the push of a button, you can convert your WP Website Builder site to a full, regular WordPress site.
This amazing features makes WP Website Builder a bit of a "have your cake and eat it too" option. You can have the ease of using a very simple, limited, get-it-done-quick website builder now. And when you're ready to scale, you can push a button and have all of the benefits of WordPress at your finger tips.
So what's the downside of WP Website Builder?
As long as you're using WP Website Builder rather than full WordPress, your design and functionality options will be limited. The compromise here is you get increased ease-of-use, but it comes at the cost of advanced functionality. That's why I only recommend WP Website Builder if you're looking to build a "business card website." If you need something more than that, then there's no getting around the fact you'll need to dedicate either more time or more money to have it.
How to start using WP Website Builder
To get started, go to Dreamhost and scroll down the page until you see WP Website Builder.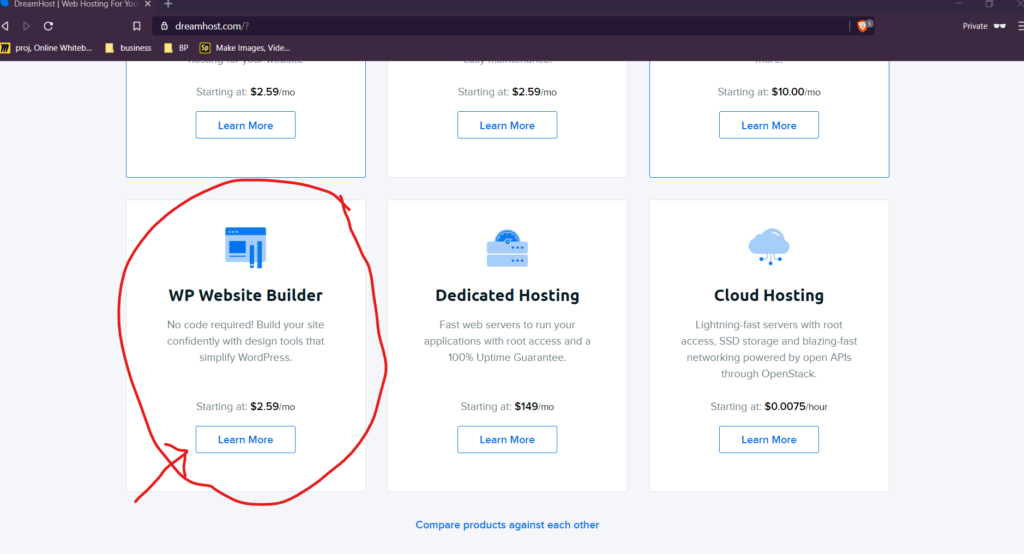 Click "Learn More" as seen in the screenshot above. Then, when you're taken to the next page, click "See All Plans"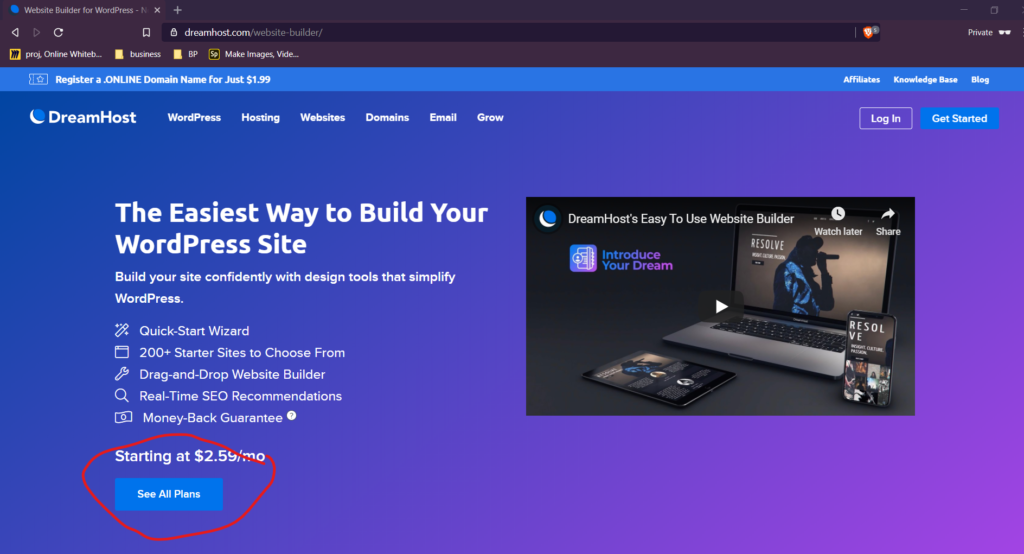 Any of the plans you see will work with WP Website Builder, but if you're just building a business card website, you'll likely be fine with the cheapest plan, which is "Shared Starter." This plan costs just $2.59/month if you sign up for 3 years. ($4.95/month if you choose to go month-to-month). All of the plans available come with a free domain, if needed.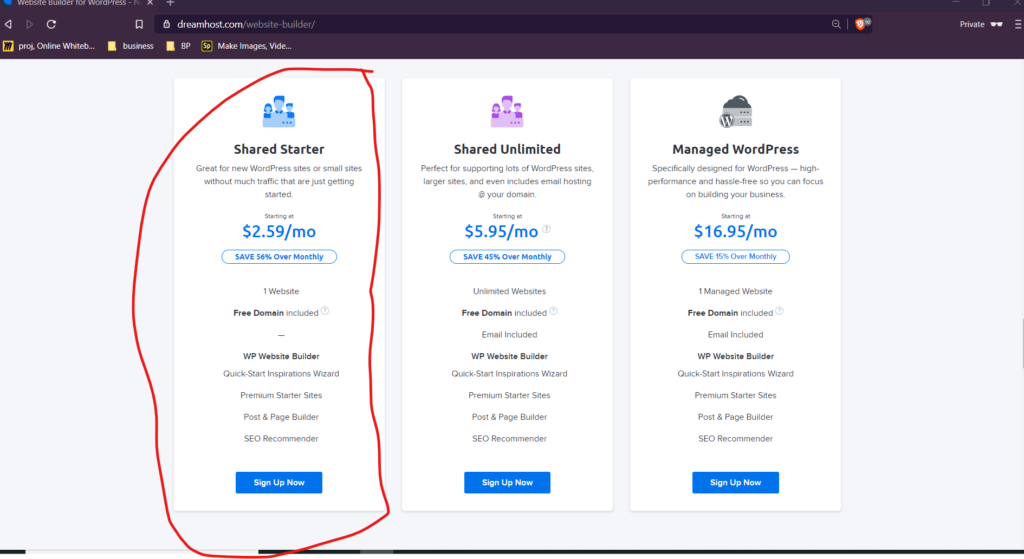 On the next page, choose your payment preferences and indicate whether you already have a domain or need to register a new one.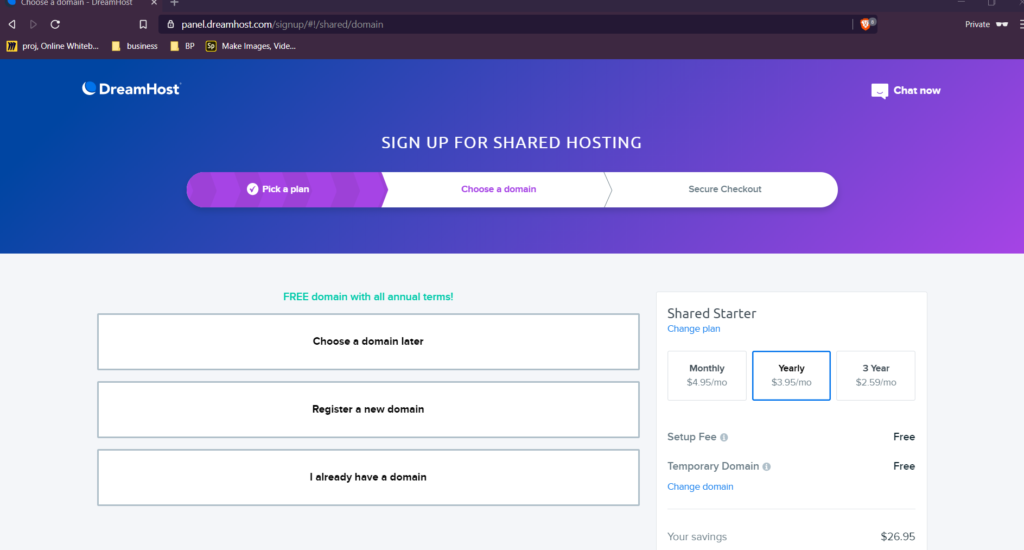 On the next page they'll try to upsell you. Select any additional options you wish, but make sure you keep selected the free options to "Pre-Install WordPress" and "WP Website Builder."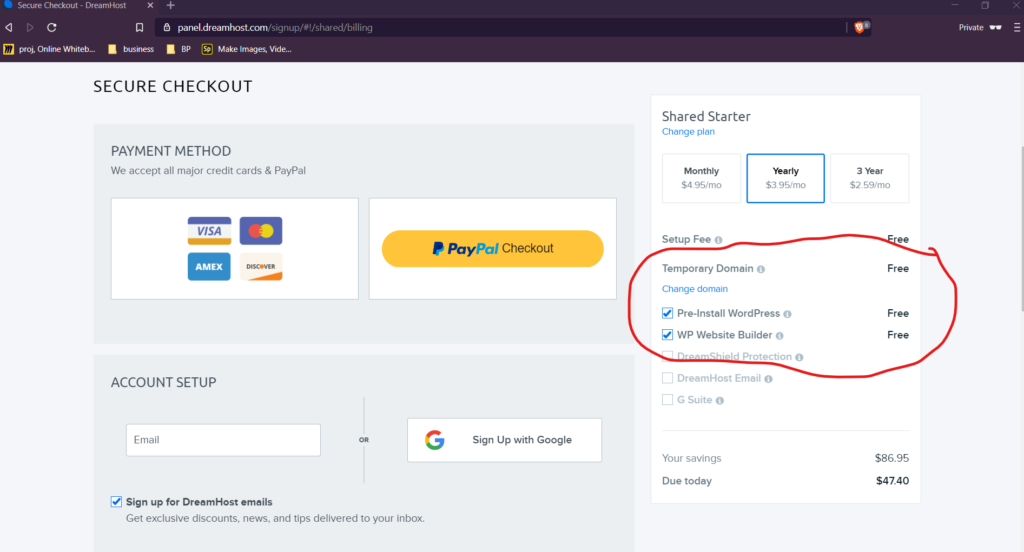 Once you put in your payment information, it will take Dreamhost a few minutes to install everything for you. Once you see the success message, Scroll down the page a little until you see "Remixer" in the left hand sidebar.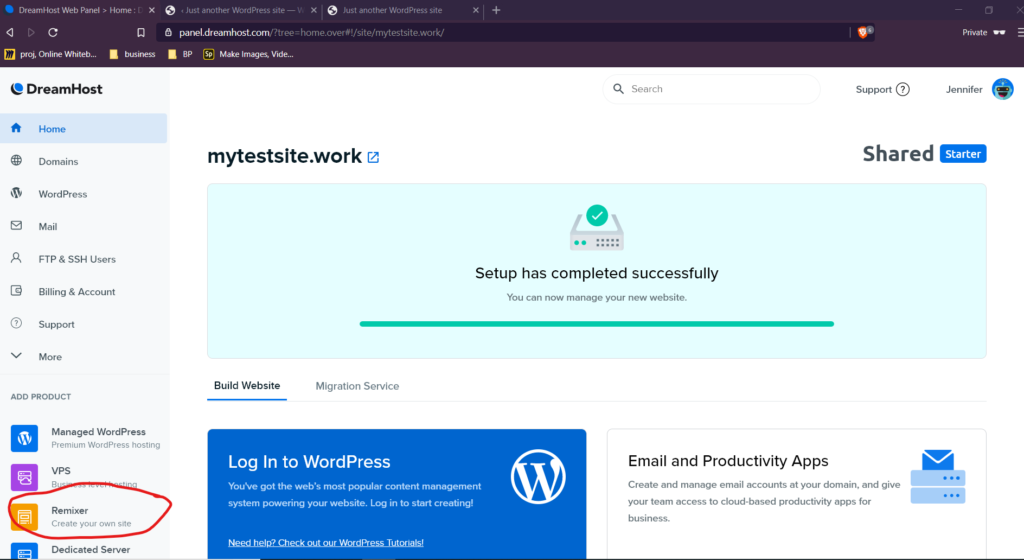 Click on "Remixer" and then click on "Start Using Remixer" on the page you're taken to.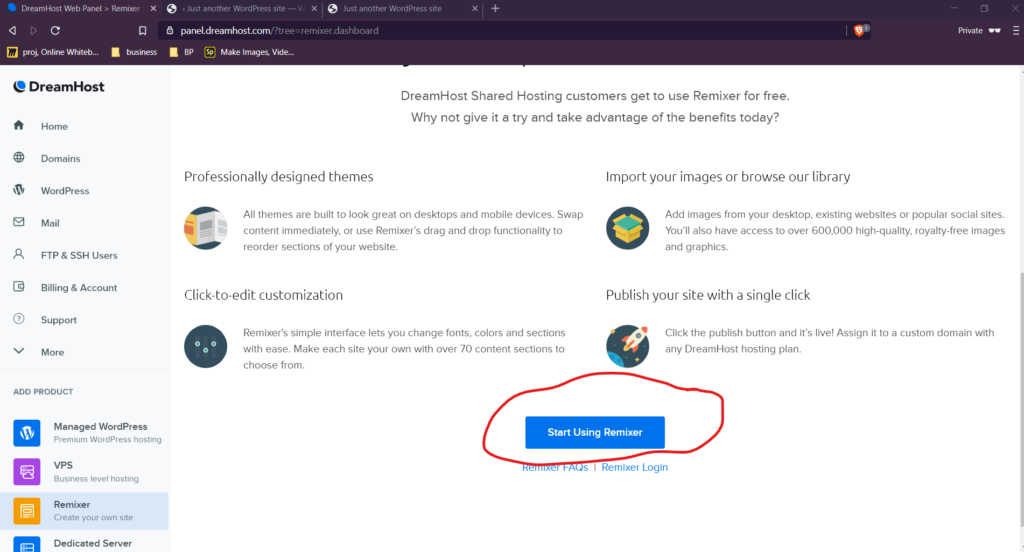 You're now ready to choose a theme! Choose whichever one is best for you.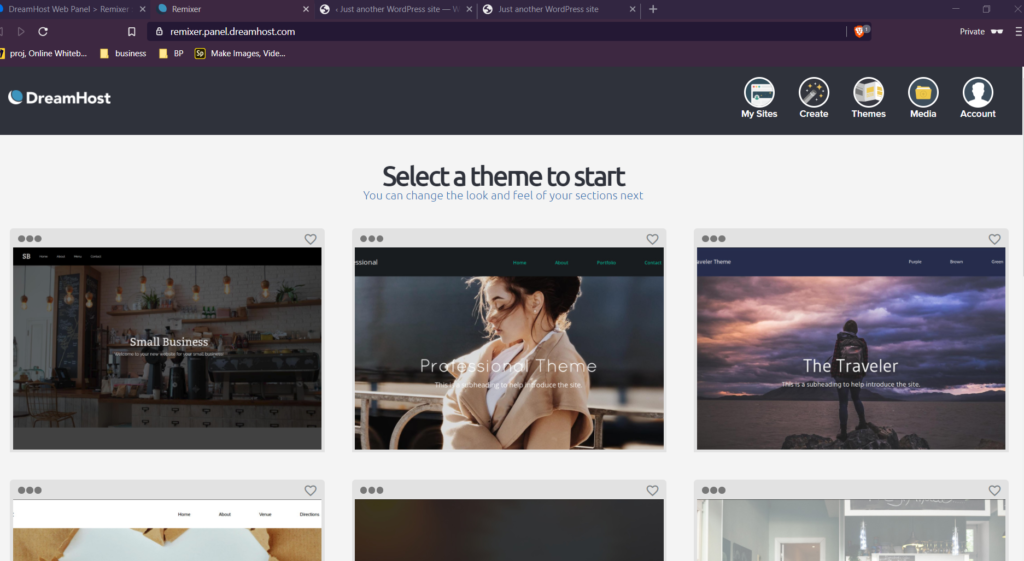 Once you've chosen your theme, make sure that Remixer is connected to your domain. You can do this by selecting your domain from the dropdown on the left.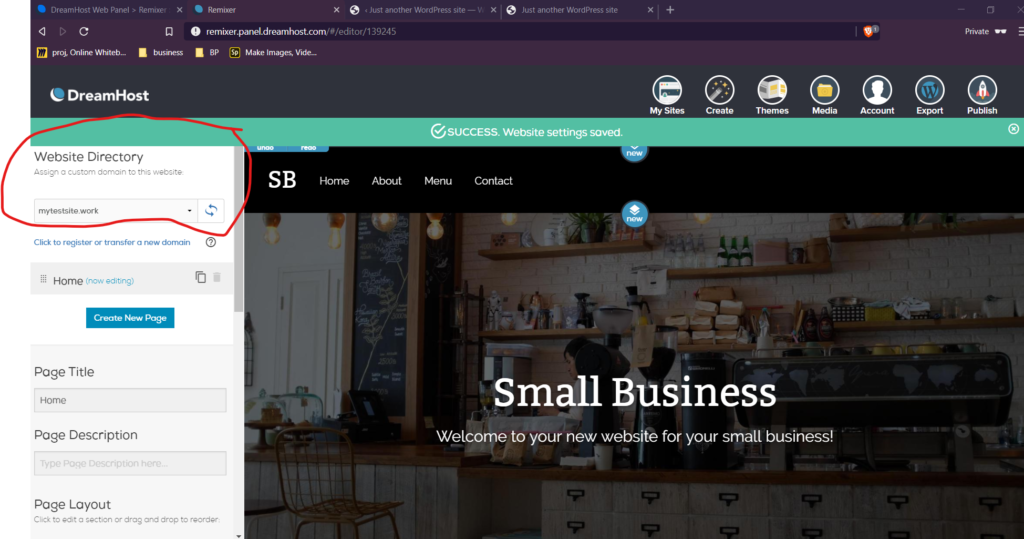 Now you're ready to start editing your website!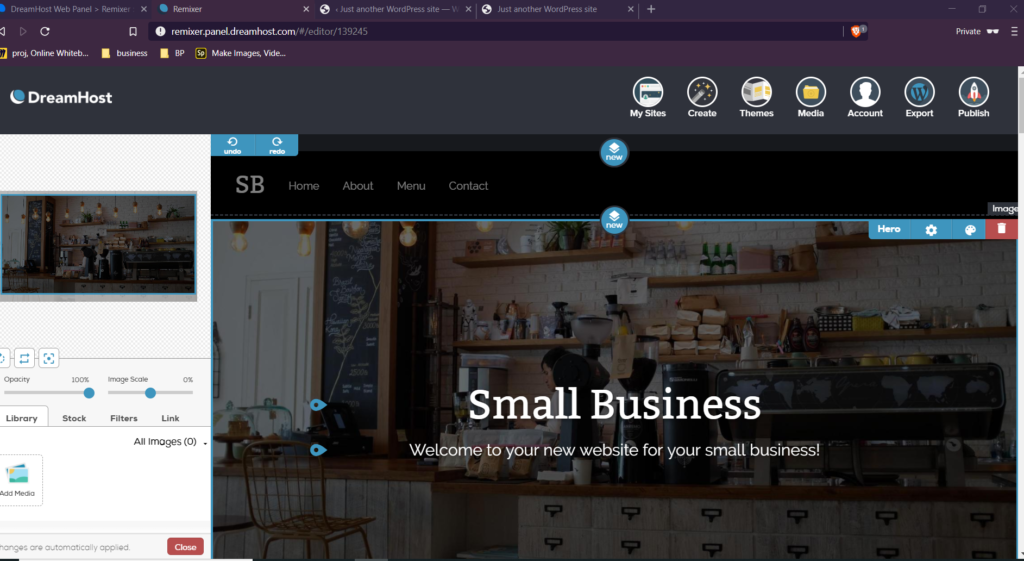 After your happy with your edits, simply click "publish" on the top of the page. Your website is now live on the internet!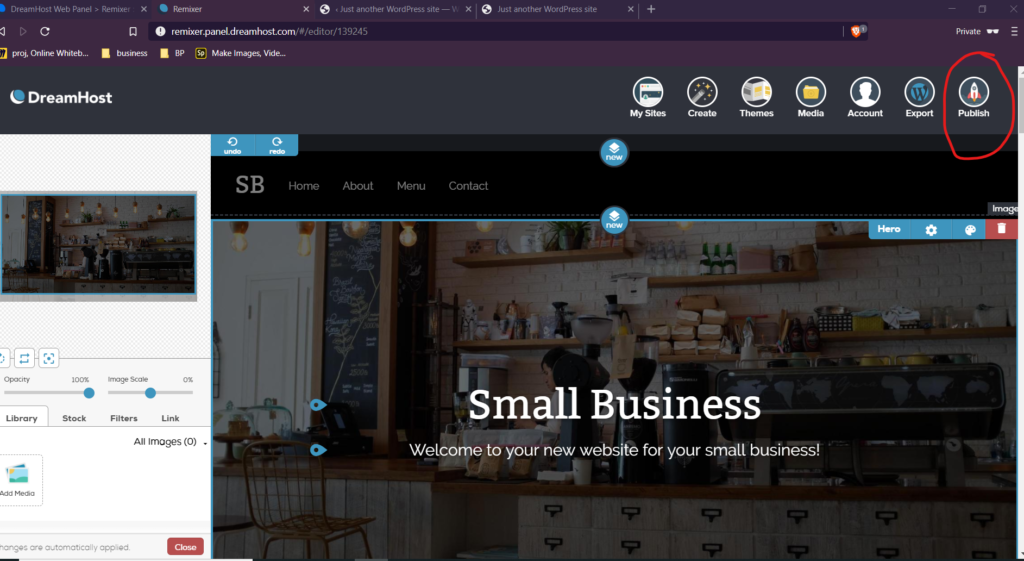 Please note that while a big part of why I recommend WP Website Builder/Remixer is because you can export to WordPress, I DO NOT RECOMMEND YOU DO THAT EXPORT until you are ready to dedicate more time and expertise to your website.
Next Steps
As long as your business card website is serving your business goals and needs, there's no need to upgrade it. But if you do find you need a website that has more functionality, better shares your message, and delivers a great user experience, then I recommend checking out my website services page to learn affordable options for taking your website to the next level.
Struggling to find good images to use on your website?
Download my FREE guide to finding great stock photography.